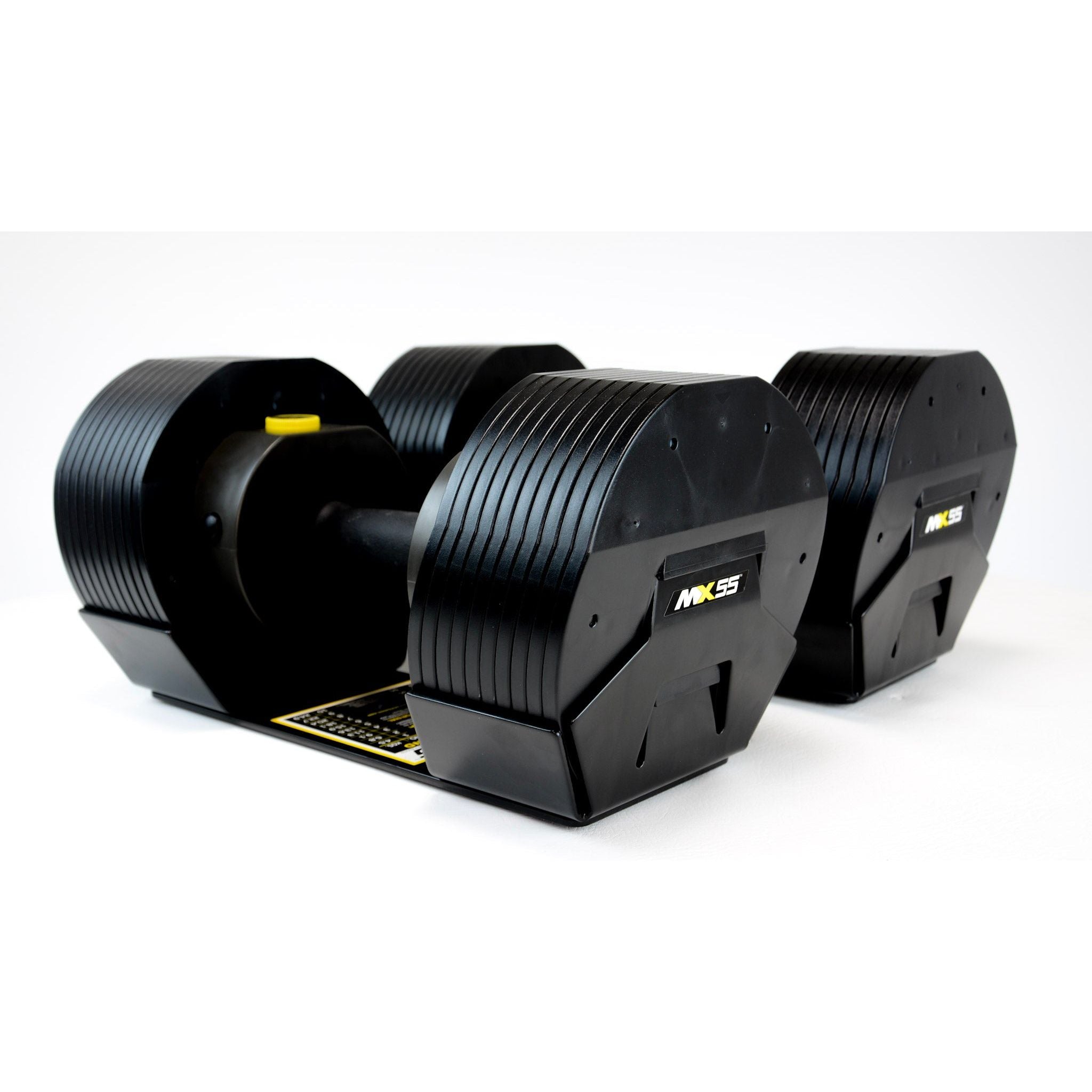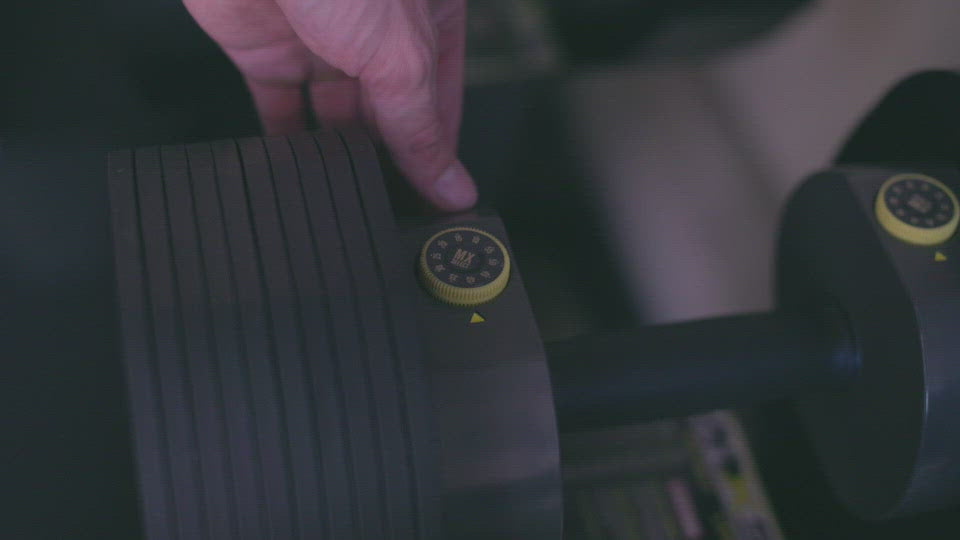 MX55 Rapid Change Adjustable Dumbbells (10 lbs to 55 lbs) (Pair)
NEW Blacked Out Series

 The MX55 Rapid Change Dumbbell System features our unique MX Select patented rack & pinion selection system: compact, balanced, and simple to use.


One Pair Of MX55 Replaces over 1,200 lbs. of weights with our Micro Load / Offset settings.

With the MX55 Dumbbell cradled you select the weight from 10-55 lbs (4.5-24.9 kg) with a turn of the dials. The selected weight level is locked into place as soon as the selector dial is pushed home.


10 standard Weight Settings: **10lbs, 15lbs, 20lbs, 25lbs, 30lbs, 35lbs, 40lbs, 45lbs, 50lbs and 55lbs.  

Do you offset?

Each of the patented weight plates on the MX55 weigh ~2.5lbs. Adjust one of the dials +/- one click to offset the weight and Micro Load your workouts.

Offset weight settings add **12.5lbs, 17.5lbs, 22.5lbs, 27.5lbs, 32.5lbs, 37.5lbs, 42.5lbs, 47.5lbs, and 52.5lbs. 
MX Select handles allow you to add more weight to one end of the dumbbell handle, allowing smaller weight increases.  A single extra plate is a great way to micro load and increase the weight in smaller ~2.5LBs increments that is hardly noticeable. Adding 2-3 extra plates on one end of the dumbbell can add some unique variety to accessory movements such as lateral raises, bicep curls, and pressing exercises, by forcing your muscles to compensate and balance the uneven load of the dumbbell to help mimic lifting unbalanced objects in real life. 

Total of 19 weight settings and over 1,200 lbs worth of individual dumbbell sets. 

The MX55 are Faster and more Versatile than any Pro Style Dumbbell in its class.

New Dial Decals Included with every MX Select Dumbbell and Barbell order.  


The MX Select antimicrobial contoured handle offers surface protection against bacteria, mold & mildew, and other hazardous microbes.


One pair of MX55 Dumbbells replaces a 10-pair dumbbell set  (off set the weights and get 19 different weight combinations), taking up only one-tenth of the space. Safe, convenient, accurate and space-efficient, the MX55 Rapid Change Dumbbell System is a perfect addition to any home workout area.

The MX Black Series Contoured Polymer handle. This new handle design offers a comfortable secure Grip that is durable and easy to use without biting into your hands. This Polymer Handle uses the Same Steel Core Structural Core as all of our dumbbells. The Contoured Polymer is over molded over our steel handle shaft.  
Dumbbell Grip length: ~5.25" 
Grip Diameter Polymer Handle: ~ 1.4" (36mm) thick
Grip Diameter Metal Knurled Handle Option ~ 28.5mm 
Dumbbell Length at 10lbs: ~9.5" long
Dumbbell Length at 55lbs: ~ 15.9" long 
Plate Size: ~7.65" tall 8.125" wide
Overall foot print for one dumbbell: ~ 16.5" long by 8.125" wide

 The optional MX Dumbbell Stand elevates the Dumbbells to provide the sleek look of a professional training studio.

Add a MX Select Adjustable Training Bench to further enhance your training space.

**Please be advised that due to tolerance in the manufacturing process, individual weight plates may vary slightly from their stated weight and size values.
This product is rated 0 of stars.
It has received 53 reviews.